Last year, Ella from Novella Ella and I decided that we wanted to read more classic novels, but we wanted to share our foray into classics with our blog readers and so the idea of Keeping Up With the Classics was born. We're still kind of finding our way, but our basic plan was to read the books and then interview each other. So let's jump right in with Pride and Prejudice! Welcome to Keeping Up With the Classics, where two 21st century girls read back in time.
Lara:

I already know a few your thoughts on the book vs. the movie (I think neither of us was a big fan of the movie), but tell me more, what was it about the movie that really turned you off it? Were there any aspects that you didn't mind so much about it?
Ella:
I was really let down by the movie! Maybe my expectations were too high because the film is considered such a classic and I know a lot of people love it but nah, it fell short for me. It was a very PRETTY film but all over the place and messy? What did you think? I did love recognizing some lines from the book but it still felt like a very different story. And I thought it was annoying but also hilarious that I found the movie hard to follow and I'd read the book! Lollll. I think the biggest thing that disappointed me about the movie was that I wish it had been more comedic. Where was the sarcasm? The biting humour that I adored in the book??!! WHERE DID IT GO?? Also, I was super pissed off that there was no kiss...like if the movie can be SO DIFFERENT from the book could they not have at least included a damn kiss?? (Still bitter about this and probably will be forever...)
Lara:

The film was very pretty and yeah, that's about all I can give it as well. I don't know what it was that I really didn't like about it? You're right, it was just a messy adaptation. And I definitely agree with you about the kiss… So much tension and then nothing! Argh!
Ella:
This Adventure Time gif just summed up ALL MY FEELINGS. I mean, I understand why there wasn't a kiss in the book but I really thought the movie would take a ~~creative license~~ AND THEY DIDN'T WHAT IS WRONG WITH THEM! Anyway, moving on, hahaha.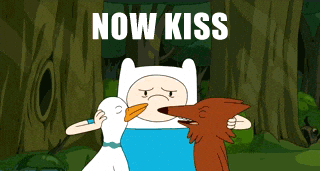 Lara:

I know you weren't the biggest fan of Mr. Darcy (more about that in your half of this interview), but which characters were your favourite? I absolutely adored the father, he was completely outnumbered by all of the girls, but I think that's what made all his interactions with them even funnier, he was just so over it.
Ella:
I loved Elizabeth, her sarcasm was always ON POINT! I was also surprised (and loooooved) how fierce and stubborn she was too! She never took any shit from anyone, not even Darcy and I thought that was great. However, my favourite character would have to be Mrs Bennet, MY QUEEN, who I bow down and would die for. The way she took on Mr Bennett always made me laugh and her elaborate schemes to get all her daughters married had me in HYSTERICS. Like the way she plots for Jane to be caught in the rain and so has to stay at Mr Bingley's house so he'll fall more in love with Jane IS SO CLEVER oh my goddd! "NO JANE, you CANNOT have a horse, you can WALK so you can get caught in the RAIN and get SICK so you'll HAVE to stay at Mr Bingely's house and for good measure I'm going to send ALL THE HORSES AWAY so you HAVE NO CHOICE but to walk." I STAN A QUEEN!!
Lara:

She was so silly, and part of me wanted to just dislike Mrs Bennett, but I totally agree, it was hilarious how she was plotting a million different ways for all her daughters to get married. It's even more interesting when you think, at the time Pride and Prejudice was written, marriage was everything and Jane Austen was making a bit of a mockery of it all by writing about it in such a humorous way.
Ella:
Considering how important marriage was then and the fact that the Bennett girls weren't that high up socially, I thought it was incredibly brave that Elizabeth turned down not one but TWO marriage proposals. She knew marrying each man might give her her own home and more money and class but she knew she would be unhappy because she didn't love either man love (or thought she didn't love at the time). I really admired and respected her for that and that she stood by decisions and didn't buckle under other peoples expectations (like her mother's haha).
Lara:

I totally agree! I'm glad we both had such a good time reading Pride and Prejudice. If our readers haven't already read the other half of this interview, they can jump to your blog where we talk a little bit more about Pride and Prejudice.
But wait there's more!
Because we loved Pride and Prejudice so much and we're convinced that more people need to read it (yes, we are prepared to bribe you into reading), we're giving away this gorgeous Vintage Classics copy of the book! Details and rules of the giveaway are below. Good luck and happy reading!
Open internationally (as long as Book Depository ships to you - a full list is on their website)
Giveaway ends on the 12th of February, 2019 at 12AM NZT
One winner will be selected at random by Rafflecopter and contacted on the 13th of February. If the winner does not respond within 72 hours, a new winner will be selected.
Ella and Lara may not enter the giveaway (I'm sorry that it's tempting, but I know both of you already have at least one copy of the book)
a Rafflecopter giveaway
Have you read Pride and Prejudice? Were you a fan? What about when you compare the book, the movie and the TV series? Also what do you think of our new series??