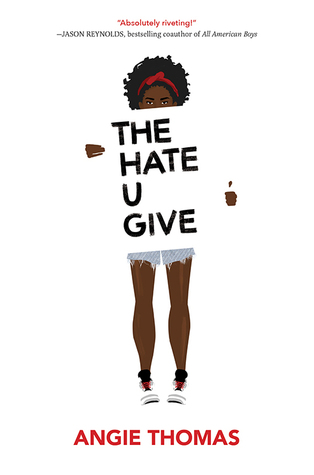 Sixteen-year-old Starr Carter moves between two worlds: the poor neighborhood where she lives and the fancy suburban prep school she attends. The uneasy balance between these worlds is shattered when Starr witnesses the fatal shooting of her childhood best friend Khalil at the hands of a police officer. Khalil was unarmed.

Soon afterward, his death is a national headline. Some are calling him a thug, maybe even a drug dealer and a gangbanger. Protesters are taking to the streets in Khalil's name. Some cops and the local drug lord try to intimidate Starr and her family. What everyone wants to know is: what really went down that night? And the only person alive who can answer that is Starr.

But what Starr does or does not say could upend her community. It could also endanger her life.



A couple of months ago, I joined The Banned Book Club, hosted by
Shruti @ This is Lit
and one of the first books we read as a group was The Hate U Give. Now, I've been a very slack blogger lately and this review is suuuuuper late, but better late than never! If you want to check out
Shruti's review it's here
.
Why/where was this book banned?
The Hate U Give wasn't a widely banned book, but it was banned by a school district in Texas for the drug use and explicit language in it.
Was the banning warranted?
In general I don't think books should be banned. Of course there are cases where the content may be so awful that younger readers should not be allowed to read it, but generally it seems that all banning does is encourage people to read a book*.
As for whether THUG should have been banned? It's a big no from me. I think that this is a book that people should be encouraged to read. It has so many important themes relating to discrimination and racism and it highlights things that are actually still happening in the world right now. If you're going to ban this book then you might as well ban the news too. The news has more horrific things happening everyday. And sure there's drug use, and some explicit language, but the drug use isn't romanticised or portrayed in any sort of positive light, it's just part of these teens lives. That's reality for them.
I just hope that the schools who banned this book found that it had the opposite effect and suddenly everyone wanted to read it.
*Sidenote: When I was in primary school, Twilight was banned and suddenly everyone wanted to read it. I don't think I've ever seen so many people interested in a book, even people that you would NEVER have seen reading before. We traded around copies like it was some sort of bookish black market and some people even went as far as to hide them in the jackets of other books... it was great!
My thoughts
This tweet basically sums up my thoughts for The Hate U Give:
Finally writing my review for The Hate U Give. To sum it up, if you haven't read THUG yet then you need to asap! It's such an overwhelmingly important book with themes that are so true to real life.

— Lara (@WordsWithLara) August 2, 2018
I loved it and I think it is such an important story. I don't know what else to say other than READ THIS! (and if you already have then talk to me about it).
Have you read THUG? Did you love it as much as I did? Also, what do you think of banning books... Would it just make you more eager to read it?