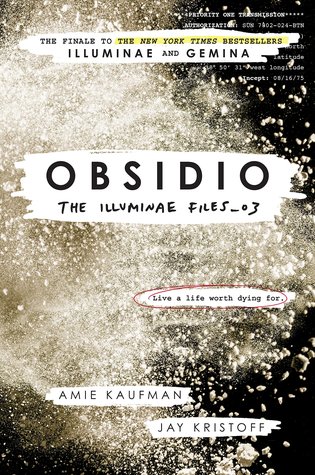 Kady, Ezra, Hanna, and Nik narrowly escaped with their lives from the attacks on Heimdall station and now find themselves crammed with 2,000 refugees on the container ship, Mao. With the jump station destroyed and their resources scarce, the only option is to return to Kerenza—but who knows what they'll find seven months after the invasion?

Meanwhile, Kady's cousin, Asha, survived the initial BeiTech assault and has joined Kerenza's ragtag underground resistance. When Rhys—an old flame from Asha's past—reappears on Kerenza, the two find themselves on opposite sides of the conflict.

With time running out, a final battle will be waged on land and in space, heroes will fall, and hearts will be broken.



It's so weird to finish a series... I don't know why! I've been reading The Illuminae Files since they came out and to finally read the third and final book was actually kinda scary. I don't want this story to be over!? I think maybe that's why I have a problem of starting series and not finishing them, I don't want them to be over. But I did it! I finished The Illuminae Files and I couldn't have asked for a better finale! So without further ado, here's some unspoilerish thoughts on why you should read (and finish) this series too!
Reason #1 - The formatting
This was one of the main things that pulled me into the illumine files to begin with. I love books that are formatted differently to "the norm". I've read quite a few books that have collections of letters and emails and texts, but the Illuminae Files took this to a whole new level. It's a collection of files that consists of pictures, message conversations, emails, transcribed surveillance footage and the 'thoughts' (??) of an AI called AIDAN. The only thing I've read that is kind of similar to this would probably be 172 Hours on the Moon by John Harstad (which I would also highly recommend). Not everyone likes this sort of style, but I am a HUGE fan of it.
Reason #2 - The characters (including AIDAN)
I feel like AIDAN the AI sort of deserves a category of his own because of his insane character (?) development throughout the series. Definitely raised some interesting questions about the future of AI. As for the other characters I loved them all! There was such a huge range of people in different situations. Sometimes when there's a huge cast, I feel like I don't connect with them all because there are just too many people to connect with, but somehow Amie and Jay pulled this off! I'm definitely sad to be leaving all these characters behind.
Reason #3 - It's a SCIFI set in space! And I liked it?!
I feel like science fiction novels are hard to pull off. Don't ask me why, but for some reason I just don't usually enjoy the ones I read... They can be confusing and there's just too much happening. (Maybe it's because I've never been on a space mission so I can't relate to it). However, Amie Kaufman and Jay Kristoff have changed space novels for me.. I'm now actively searching them out, but I have yet to find something that compares! The temptation to reread is so real!
Reason #4 - There are so many little Easter eggs
Throughout the entire series there are so many references to other authors and books which I think is such a fun wee detail! (I'm pretty sure that Leigh Bardugo is on multiple civilian death lists throughout the series). I posted about it on Twitter a couple of times, but mind the crappy photos... It was late at night and lighting was not on my side.
— Lara (@WordsWithLara) April 11, 2018
Reason #5 - In the end it all connects
Illuminae and Gemina could almost (but not quite) be read as standalone novels because they're about different characters and the storylines seem to only vaguely follow on from each other, but Obsidio brings everything together. It answers all the questions I had and wraps it all up perfectly!
Overall Thoughts
Don't put this book off! I'm the sort of person that puts series finales off and I'm so glad I didn't with Obsidio. And if you haven't read The Illumine Files then I would totally recommend sitting down and binging them all at once! They look like huge books, but a lot of that is just the formatting.. you actually finish them WAY too quickly!
Have you read any of the books in this series? Have you read them all and if you haven't do you plan on reading them? What's a book that you read that had interesting formatting? I need more books like this in my life.