Last week I went and saw Love, Simon with Ella (from
A Bookish Time
), and Shanti and Shar (from
Virtually Read
). First of all, it was so nice to see a bookish movie adaptation with three other fangirls who had read and loved the book as much as I did! There were definitely little squeals from all of us throughout the movie as we got to see this book come to life.
I want to preface this review by saying that it has been a VERY long time since I read the book, so I couldn't really remember much of the book. I couldn't even remember who Blue was which I think made it even more enjoyable for me. (Also I definitely suffer from serious book amnesia so even if I had read it recently, I probably wouldn't have remembered much...
why am I like this?
). Anyway, with that in mind, here are a couple of thoughts I did have.
I LOVED the witty/dry humour
Love, Simon made me laugh. I don't really remember a heap of humour in the book, but it didn't seem forced or anything in the movie. They did it well and it was an aspect that I wasn't particularly expecting (I don't know why because really this movie is a rom-com).
Writing the emails
What I remember about Simon vs. the Homo Sapiens Agenda was that there was a lot of back and forth of emails and I was so afraid that they'd portray that badly in the movies. It could have been boring and repetitive, but I really liked how you saw Blue writing the emails throughout the movie, but it changed depending on who Simon thought it was. It really allowed the audience to connect more with Simon because we were just as clueless as he was about the identity of Blue. (Unless you'd read the book and actually remembered it... unlike me).
Simon was privileged
I'm not saying that Simon had the perfect life, but he and his family were definitely privileged. I think that's one of the first things that we all talked about when we got out of the cinemas. How Simon was from a rich (mainly white) neighbourhood and how he had a big room in a huge house and his own car from his parents and all the latest and greatest phones/laptops. And it wasn't just him, it was his friends as well. It's something I definitely don't remember from the book.
I thought they did an amazing job with the casting of Love, Simon. I loved Nick Robinson as Simon and I though the whole group of friends were perfect as well. I'm so stoked that the movie was cast well because that's one of my biggest fears with book to movie adaptations... that they'll cast people who just don't seem right.
The book to movie aspect
I know they changed little things here and there, but overall I think this movie stayed pretty true to the book. The biggest thing I remember about the book was the cute feels it gave me and the movie definitely did the same. (You should have heard us all squealing over all the cuteness... I think we made the most noise in that theatre).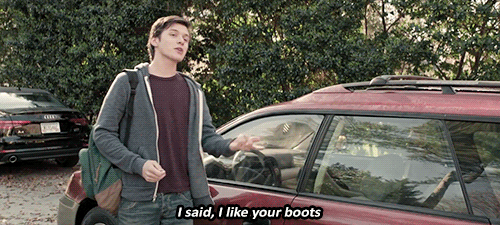 Overall Thoughts
Love, Simon was a super cute movie on so many levels. They definitely did the book justice, but you don't have to have read the book to enjoy it. Would recommend to everyone! (Also now I understand why people say they could watch it again and again).

Have you seen Love, Simon? What did you think of it? Also, what's you're favourite book to movie adaptation of all time? This one is definitely up there for me.