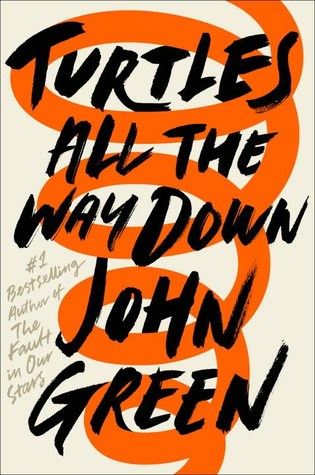 Sixteen-year-old Aza never intended to pursue the mystery of fugitive billionaire Russell Pickett, but there's a hundred-thousand-dollar reward at stake and her Best and Most Fearless Friend, Daisy, is eager to investigate. So together, they navigate the short distance and broad divides that separate them from Russell Pickett's son, Davis.

Aza is trying. She is trying to be a good daughter, a good friend, a good student, and maybe even a good detective, while also living within the ever-tightening spiral of her own thoughts.

In his long-awaited return, John Green, the acclaimed, award-winning author of Looking for Alaska and The Fault in Our Stars, shares Aza's story with shattering, unflinching clarity in this brilliant novel of love, resilience, and the power of lifelong friendship.



John Green strikes again! I can't imagine the huge pressure he must have felt after the success of The Fault in Our Stars, but John Green has stuck again and has not disappointed in any way. In fact, if I had to chose between TFiOS and Turtles All the Way Down - well, Turtles wins for sure!
Something that I was beginning to feel with John Greens previous novels is that they all had a very similar vibe... And sliiiightly repetitive storylines (even if it was subtle) and I was so afraid that this one was gonna be the same sorta thing again but Turtles had a totally different vibe! And I loved it. I think this novel may have been different because it was an own voice novel for John Green, but I'm not totally sure.
For those of you who haven't read Turtles
(READ IT)
, it's a novel about Aza, a girl who suffers from OCD and not in the stereotypical way that is normally portrayed in books and movies. John Green has OCD and describes it as thought spirals he gets trapped in and can't get out of. That is how it is portrayed in this novel; Aza does have certain physical compulsions, but the majority of it happens inside her head and I think it's so important that this book exists. Mental illness isn't always something that you can physically see. A lot of times symptoms do portray themselves physically, but just because they don't doesn't mean someone doesn't have a mental illness. It's called
mental
illness for a reason.
I love the way John Green writes about relatable imperfectly perfect characters. They're beautifully flawed; they're real and the stories are real. Even if you're not a fan of his previous books I'd still recommend this one to you. It's not a happily ever after story, but it is real and I do like the message it has. Things don't always get better straight away, but it's not the end. There's so much more in life to look forward to and to work towards.
I can't wait to see what John Green comes up with next!
Are you a fan of John Green? Have you read Turtles or any of his other books? What did you think? Also what are some other good #ownvoice novels? Let me know!