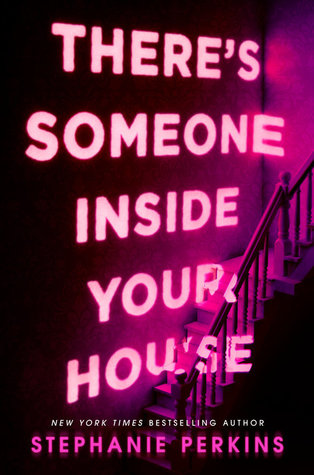 Love hurts...

Makani Young thought she'd left her dark past behind her in Hawaii, settling in with her grandmother in landlocked Nebraska. She's found new friends and has even started to fall for mysterious outsider Ollie Larsson. But her past isn't far behind.

Then, one by one, the students of Osborne Hugh begin to die in a series of gruesome murders, each with increasingly grotesque flair. As the terror grows closer and her feelings for Ollie intensify, Makani is forced to confront her own dark secrets.



I am so conflicted about Stephanie Perkins latest release. I was excited when I heard that she was writing a new novel because I love the Anna and the French Kiss series and I was even more excited when I found out it was horror themed, but now I'm not really sure what to think... There were parts that completely pissed me off and there were parts that were okay(ish). Luckily I tweeted as I read so I can break everything down for you with the help of my tweets!
***
WARNING: THERE WILL BE SPOILERS AND I WILL RANT ***
Things started out well... Not. Maybe it was because I decided to tweet as I read, but I got two pages in and I was already totally distracted. Okay.. Maybe that is because Twitter is a huge distraction no matter what you're reading, but still! Page two!
Page 2: Already distracted because they're talking about a stage show of Sweeney Todd and that reminded me that a school in NZ did that and an actor accidentally actually cut someone's neck and no one realised for ages because they thought the blood was fake but it wasn't...

— Lara (@WordsWithLara) November 18, 2017
Anyway! Moving on. So this book started from the point of view of a girl called Hayley (I think it was Hayley?) who was basically a theatre geek, but don't worry too much about her because wait for it... She's dead less than ten pages in.
Page 8: What is happening... I think someone just got murdered by an egg timer and I'm not even 10 pages in

— Lara (@WordsWithLara) November 18, 2017
Rightio, now that we have Hayley out of the way (Stacey? Her name definitely might have been Stacey..) we can move onto the real star of the show. Makani. Let me set the scene for you; Makani is the new girl in a small town. She's been shipped off there by her parents to live with her grandmother because something awfully strange happened in her past. Although of course we're not quite sure what that is yet. At this point I was definitely assuming that Makani had actually killed someone... But more about that later.
Page 18: Okay so main character Makani has some weird shit that happened in her past.... (probably should have gathered that from reading the blurb though)

— Lara (@WordsWithLara) November 18, 2017
So this Hayley/Stacey girl was brutally murdered and now the whole town is freaking out trying to figure out who it is. Pause again, this time because a character mentioned flip-flops and I care more about finding out what everyone calls those in different countries.
Which one?

— Lara (@WordsWithLara) November 19, 2017
Back to reading. Only to find out that Makani's grandmother sleepwalks. For some reason I just could not get into this book. I kept getting distracted! But that might just be because Twitter is damn distracting.
Page 25: I should not be laughing but the MC's grandmother was sleep-pruning a tree and when someone tried to wake her she chopped off the tip of his nose 😂😂😂

— Lara (@WordsWithLara) November 19, 2017
I stopped reading because I was "too tired to concentrate" and then didn't pick it up again for a couple of days (actually more like a week) because I just wasn't feeling it.
I've paused reading because I'm too tired to concentrate....

— Lara (@WordsWithLara) November 18, 2017
I finally managed to read a bit and was actually starting to like it a bit more... During this time Makani and Ollie got a lot of screen time and I realised that maybe I like reading Stephanie Perkins more in the contemporary genre than the horror genre.
A second person is murdered this time by having their brain taken out and chopped up and then shoved back in. Creative. I'm back to not really enjoying this book, but determined to finish it.
On page 116 and seriously considering giving up... except I do want to know who the killer is

— Lara (@WordsWithLara) December 2, 2017
Another death. (This one had his ears chopped off)
Kill count is at three and I still have no idea who is doing it...

— Lara (@WordsWithLara) December 2, 2017
Makani (of course) is the next victim, but she gets away and we find out who the killer is and what a BORING killer?! It's just some random quiet kid from Makani's school (lol it's always the quiet ones). I had to wait until the end of the book to find out why he was murdering people and how he was choosing them, but I'll spare you the wait for nothing... Turns out he was killing people that had potential and might one day have a life outside of the town they were from.... And that list included his best friend... Yeah... What? I don't even know! This 'grand reveal' was at the end of the book and it was such a let down. It didn't even really make sense to me!
Just found out who the killer is... WTF...

— Lara (@WordsWithLara) December 2, 2017
What else happened between finding out who the killer was and finding out why he was killing people? Oh yeah, we found out about Makani's mysterious past. Another let down. The reason she had to move to a tiny town to live with her grandmother was because she was a messy drunk at some team initiation thing and chopped off someone's ponytail. I get that high school kids can suck, but this was built up to be a HUGE reveal and it would have been waaaaayyy more interesting if Makani actually killed someone.
Oh shittttt, we're about to get the story of Makani's past!

— Lara (@WordsWithLara) December 2, 2017
By this point I gave up on tweeting. So how did it end? Happily ever after of course. There were a couple more deaths, but in the end, the killer was caught and the boy and the girl got together. Blah blah blah. That's it.
I finished There's Someone Inside Your House. Nothing made sense. It felt like one anti-climax after another. I'm annoyed. 2 stars and I feel like it doesn't even quite deserve that.

— Lara (@WordsWithLara) December 2, 2017
I'm sorry, but I'm actually pissed off about this book. My last tweet pretty much sums up the entire experience for me. I'm disappointed because I wanted to like this, but I really didn't. Ah well, I'm about to start Radio Silence so I'm hoping I'll like that better!
Have you ever been excited for a book that just let you down? Tell me what you thought of this book if you've read it.. Disagree or agree with me?? I want to know! Tell me your thoughts.