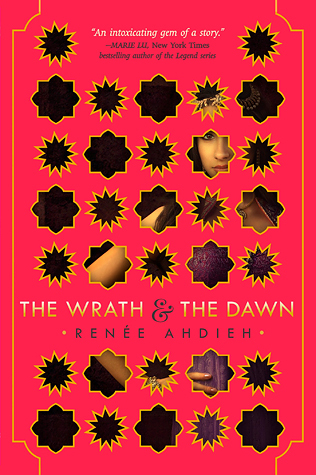 One Life to One Dawn.

In a land ruled by a murderous boy-king, each dawn brings heartache to a new family. Khalid, the eighteen-year-old Caliph of Khorasan, is a monster. Each night he takes a new bride only to have a silk cord wrapped around her throat come morning. When sixteen-year-old Shahrzad's dearest friend falls victim to Khalid, Shahrzad vows vengeance and volunteers to be his next bride. Shahrzad is determined not only to stay alive, but to end the caliph's reign of terror once and for all.

Night after night, Shahrzad beguiles Khalid, weaving stories that enchant, ensuring her survival, though she knows each dawn could be her last. But something she never expected begins to happen: Khalid is nothing like what she'd imagined him to be. This monster is a boy with a tormented heart. Incredibly, Shahrzad finds herself falling in love. How is this possible? It's an unforgivable betrayal. Still, Shahrzad has come to understand all is not as it seems in this palace of marble and stone. She resolves to uncover whatever secrets lurk and, despite her love, be ready to take Khalid's life as retribution for the many lives he's stolen. Can their love survive this world of stories and secrets?



You know when you put of reading a book because of the hype? And then you read it a year later and suddenly realise what all the hype was all about... Yeah, that's exactly what happened here. And after reading The Wrath and the Dawn I NEEDED more which is why I read two other books by Renee Ahdieh in the next week.
If you were like me and put The Wrath and the Dawn off because of all the mixed reviews then here are a couple of reasons why you definitely SHOULD read it now.
It was so unique! I loved the cultural aspect of The Wrath and the Dawn with the caliphs and the Arabian desert vibe. Why is there not more of this in YA?
I am a sucker for the good old enemies to lovers trope. It's not for everyone, but I love it.
The writing!! Such a beautiful style of writing that I wanted more and more of (and still need more of)
"What are you doing to me, you plague of a girl?" he whispered.
"If I'm a plague, then you should keep your distance, unless you plan on being destroyed." The weapons still in her grasp, she shoved against his chest.
"No." His hands dropped to her waist. "Destroy me."
☆ ☆ ☆ ☆ ☆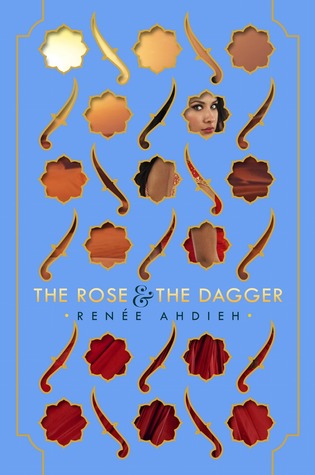 The darker the sky, the brighter the stars.

In a land on the brink of war, Shahrzad is forced from the arms of her beloved husband, the Caliph of Khorasan. She once thought Khalid a monster—a merciless killer of wives, responsible for immeasurable heartache and pain—but as she unraveled his secrets, she found instead an extraordinary man and a love she could not deny. Still, a curse threatens to keep Shazi and Khalid apart forever.

Now she's reunited with her family, who have found refuge in the desert, where a deadly force is gathering against Khalid—a force set on destroying his empire and commanded by Shazi's spurned childhood sweetheart. Trapped between loyalties to those she loves, the only thing Shazi can do is act. Using the burgeoning magic within her as a guide, she strikes out on her own to end both this terrible curse and the brewing war once and for all. But to do it, she must evade enemies of her own to stay alive.

The saga that began with The Wrath and the Dawn takes its final turn as Shahrzad risks everything to find her way back to her one true love again.



Sequels are never as good as the first book. I still loved this sequel to The Wrath and the Dawn, but it definitely wasn't quite as good. Still worth a read if you liked book one. It was a really good book, I just wanted more Shazi and Khalid scenes... I love a fluffy romantic scene, but they spent the majority of this book apart so that's all that let it down for me.
I would advise tissues as well.
ALSO! Exciting side note, there are three novellas which are free eBooks on Amazon so if you do want more of Shazi and Khalid then there is more out there and it's FREEEEE!
☆ ☆ ☆ ☆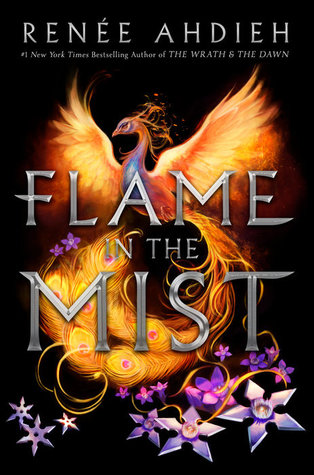 The only daughter of a prominent samurai, Mariko has always known she'd been raised for one purpose and one purpose only: to marry. Never mind her cunning, which rivals that of her twin brother, Kenshin, or her skills as an accomplished alchemist. Since Mariko was not born a boy, her fate was sealed the moment she drew her first breath.

So, at just seventeen years old, Mariko is sent to the imperial palace to meet her betrothed, a man she did not choose, for the very first time. But the journey is cut short when Mariko's convoy is viciously attacked by the Black Clan, a dangerous group of bandits who've been hired to kill Mariko before she reaches the palace.

The lone survivor, Mariko narrowly escapes to the woods, where she plots her revenge. Dressed as a peasant boy, she sets out to infiltrate the Black Clan and hunt down those responsible for the target on her back. Once she's within their ranks, though, Mariko finds for the first time she's appreciated for her intellect and abilities. She even finds herself falling in love—a love that will force her to question everything she's ever known about her family, her purpose, and her deepest desires.



I finished Flame in the Mist less than five minutes ago and I am still reeling. This was easily the best book I've read in 2017 and I hate that I have to wait until June next year to read the sequel... After reading The Wrath and the Dawn books last week I honestly did not think Renee Ahdieh could get any better, but she did.
If the pretty cover isn't enough to convince you to read this then let me give you a few more reasons.
One VERY badass girl who's seen as odd, but really she's just too smart for everyone else around her. Mariko kicks butt in every single way possible and I love it.
Samurai. So many badass Samurai warriors....
The culture. That is something that Renee Ahdieh has done an amazing job of in every single one of her books, including a cultures that I've never read about before in YA, but now I want more.
"Be as swift as the wind. As silent as the forest. As fierce as the fire. As unshakable as the mountain. And you can do anything..."
☆ ☆ ☆ ☆ ☆